What is the workbook?
The workbook will help provide learners with a range of resources to help them better understand themselves, their future options and information and techniques to help them gain skills.
Learners can work through the booklet at their own pace, or the shorter sections could be delivered as lessons in school with a teacher or by Study Higher.
What is in the workbook?
There are three sections of the interactive and engaging workbook aimed at helping learners discover and learn as they work through the various activities:
All about me – here students can identify their qualities and how these might help them in the future. There are some activities on hobbies as well as exercises that will allow students to consider the barriers they face, and how to overcome them. The section also includes an opportunity to reflect on the learner's individual character traits revealing their strengths and the careers these might be suited to.
My future options – this section details information about education pathways taking learners through a journey including both further education and higher education options. Learners will develop a better understanding of university courses and who can study at a university. The section finishes with some activities on careers and a quiz on employability skills.
What can I do now – this section is all about now and what learners can do to develop their skills, learn new techniques and hone their study skills to help them develop their own routines and methods. Learners will discover how to develop a 'growth mindset' and tune into a positive thought pattern.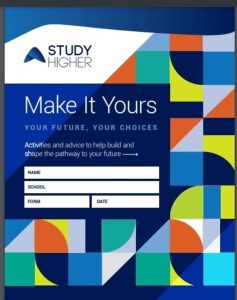 For students who would like to download the workbook, you will need to complete a few questions via the form below, first.  A link for the workbook will be available after you submit the form.
For all teachers/advisors, you can instruct a class of students to download the booklet from the link above so that students can work through it at their/your pace, saving as they proceed. You also request an un-editable copy for your own reference by emailing: info@studyhigher.ac.uk 
For those teachers in eligible schools (Study Higher tier 1: please check here if you are unsure) we are able to provide printed versions for any number of students. These can be requested by emailing: info@studyhigher.ac.uk
FAQs
Can I get updates about which students from my school have downloaded the workbook?
Yes this is possible.  For each school, where students download the workbook, we maintain a spreadsheet of  student names and the download date. This will only be accessible by our team and a designated school contact – this is generally the careers lead or head of sixth form but it can be someone else specified by the school if you let us know. The spreadsheet will be updated at the end of each month and we hope this will help you to then check in with students as to their progress and ask us for support as and when required.
How could I use this workbook with my students?
Students can work through the workbook at their own pace, or the shorter sections could be delivered as lessons in school with a teacher or by Study Higher. Please talk to us about the delivery by our team.
This workbook could be used in any manner suitable to the school but some suggestions are: over a number of personal development lessons; in tutor sessions e.g. registration or, as individual homework tasks that could then be looked at together during the sessions mentioned above.
How long might it take a student to complete the workbook/a section in the workbook?
This really depends on the approach of the student and how much time they want to spend researching many of the links found in the workbook. Some of the tasks could take just 10 minutes while others may take half an hour.
Are there any teacher resources to accompany the workbook?
We have two PowerPoints one which introduces the resource and could be used in an assembly or with a class and the second to use when delivering to a class – please click on the title below to download:
Make It Yours introduction workshop/assembly
Can this be used with students all students?
Absolutely – you know your students best so please use it with students across the key stages.
What do you need for evaluation and as a teacher/school staff how can I support that?
On the back page of the workbook there is a QR code and/or a link to evaluation questions. If you could ask your students to complete the evaluation via either of these that would be great. 
Do students need internet access to complete this?
Yes – there are a few pages which don't require internet access but many of the tasks do relate to partner websites.
If this causes an issue then a suggestion might be that the teacher, or a student for the class, searches for the information on the teachers computer and projects it to the whole class using a whiteboard.
Is it possible for you to send schools the answers so we can support the students while they complete the workbook and to help us prepare the work?
Yes please contact your Study Higher link or email info@studyhigher.ac.uk for a pdf version.
It looks like you aim to collect quite a lot of student data before students can download the workbook. What is this for?
When individual students make a request to download the workbook, via the web page, they will be asked to answer a few questions prior to getting the workbook download link. If your students are working with a physical copy of the workbook we ask that students complete these questions via the link(s) provided on the back page.
We are collecting data to use in our monitoring – we need to track who we're working with to ensure the right students are accessing our interventions and to justify our funding to the Office for Students. To do this, we enter student data into our student database (HEAT) which allows us to track students as they progress through school to university, and to see which outreach activities they've taken part in, in order to try and gauge the impact of our work. We don't use this data for any marketing purposes, and we're not collecting any direct contact information.
For more information, please take a look at our data page on the website, or feel free to get in touch with our Monitoring and Evaluation Manager, Emily Scott at e.scott@brookes.ac.uk
You may also be interested in…