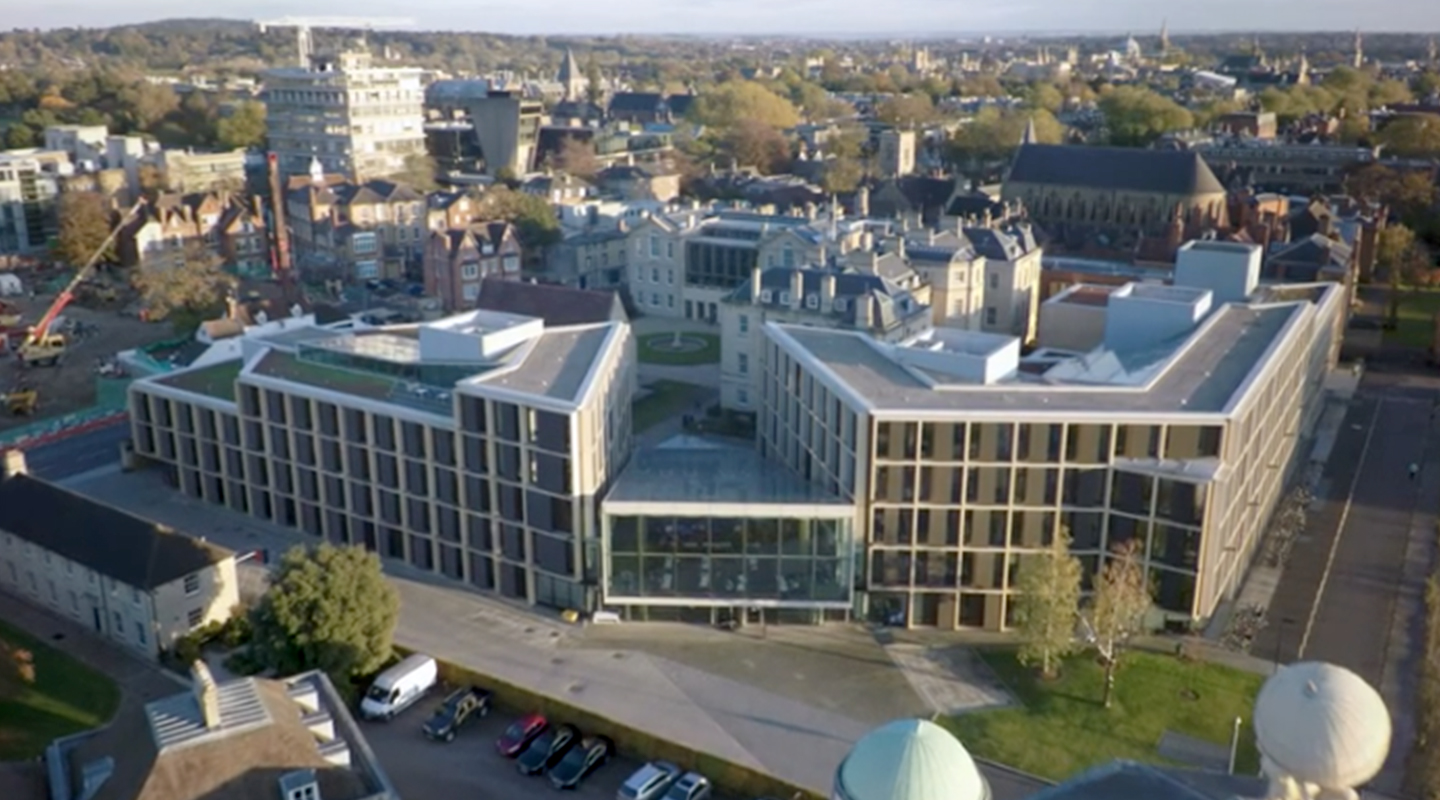 What is Study Higher and Uni Connect?
Study Higher is one of 29 groups that form the Uni Connect programme (formerly know as National Collaborative Outreach Programme NCOP).  Each group is made up of universities, schools, colleges and other organisations (such as employers and charities) in a specific region of England. Funded by the OfS (Office for Students) the key aim of the programme is to support the most disadvantaged young people in England to progress into Higher Education (HE).
Uni Connect aims to run until July 2021 and more information along with a list and map of groups can be found on the OfS website.
Study Higher is based at Oxford Brookes University (OBU), and OBU will be the Data Controller of any personal data that you supply.  This means that they will make the decisions on how your data is used and for what reasons. You can contact OBU's Information Management Team on 01865 485420 or email info.sec@brookes.ac.uk.
What will Study Higher be doing?
Study Higher is undertaking and helping to deliver a wide range of outreach activity in schools, colleges and through community groups, to help young people better understand their future educational and employment choices so they can make an informed, and the best, decision for themselves.
For example, this may mean that Study Higher staff members come to your school and facilitate a study skills workshop, or you may be invited to participate in a mentoring programme, or given information about other activities and events like summer schools and open days.
As well as working directly with students and young people, Study Higher will also be working with teachers, parents, and relevant people (for example, careers advisors and community leaders).  In the case of parents/carers we may ask you for contact information so we can send you relevant information and we will ask for your child/childrens details, such as name and date of birth, so we can monitor if they take part in one of our activities.
Why do we need your data?
The aim of Study Higher is to support young people to progress into HE and /or make the best individual decisions about what to do when leaving school.  To know whether we are meeting this aim we need to collect information about you when you take part in our activities and events so that we can find out what you do next and in your future employment and educational outcomes to see if we've helped.
A number of national organisations also routinely collect data about young people, such as the Department for Education, UCAS, and the Higher Education Statistics Agency (HESA).  We will be using such sources of data to track and look up your educational and employment outcomes in the future. To be able to do that we need some of your personal information for those organisations to be able to find and match student records.  For example, we need your name and date of birth so that we know we have the right person's record.
OBUs legal basis for collecting this data is:
You consent to providing it to us
If OBU asks you for sensitive data such as; racial or ethnic origin, political opinions, religious or philosophical beliefs, data concerning health, OBU will use these data because:
You have given OBU explicit consent to do so
OBU will use personal data which you have knowingly made public
OBU need to use this data for scientific or research purposes.
As part of our on-line forms and on-line registrations we would like to collect a range of demographic and personal sensitive data about you.  This includes things such as:
Name
Date of Birth
Postcode
School
Eligibility for free school meals
Ethnicity
If you do not give consent but give personal details and responses to survey questions we will use these responses, but they will be stored anonymously, meaning we will remove any information that could identify you but keep responses to question about our activities that will help us to monitor and evaluate their impact.
If you provide consent for us to use your image or to participate in video footage:
Your image may be used as outlined in the consent form which you have signed and for no other purpose.
Who will OBU share your data with?
The personal data that we ask you for, such as name, date of birth, and your home postcode, we will use to link your information to data held in national datasets so that we can see whether our activities have an effect upon your later educational and employment outcomes. As part of our evaluation, and the wider Uni Connect evaluation, your data may be shared with:
The Office for Students (OfS) – OfS are the national funder of Uni Connect, of which Study Higher is one of the consortia in the programme.  We may need to share data with the OfS as part of our regular reporting process.
The Higher Education Access Tracker (HEAT) – Study Higher uses the HEAT service and database (www.heat.ac.uk) to record information about the activities we deliver and the people who take part in them.  HEAT helps us to identify which activities are most helpful in preparing students for future educational steps, such as going to higher education, and their progression into employment.
The Higher Education Statistics Agency (HESA) – a national charity who collects data from universities and FE colleges about who is registered on programmes of study and also surveys graduates about their future employment outcomes.
National Pupil Database (NPD) – this is the central database of the Department for Education for all pupils in England, which schools students are currently and have been enrolled in, along with what qualifications students have gained.
University and Colleges Admissions Service (UCAS) – a charity who manages University and HE applications.
CFE Research – the national evaluator of Uni Connect, CFE Research are collecting data and information from across the country to try and better understand regional differences and national trends.
Ipsos Mori – additional Uni Connect national evaluator.
Brightside – a charity who are delivering an e-mentoring programme on our behalf, we need to share data to monitor who participates in the programme and any feedback.
Learning Ladder – an organisation who are working with local community groups to support outreach activities, we need to share data to monitor who participates in the programme and any feedback.
Education Business Partnership – an organisation who are delivering activities on behalf of Study Higher, we need to share data to monitor who participates in the programme and any feedback.
Villiers Park Educational Trust – a charity who are delivering programmes in the Swindon area on our behalf, we need to share data to monitor who participates in the programme and any feedback.
Study Higher partners and associate partners, full list can be found here – we will be sharing information with partner to monitor who participates in the activites and any feedback that is received.
CFE Research as the national evaluator of Uni Connect may contact you to ask further questions about the activities you participated in and your attitudes towards higher education etc., either by sending you a link to an online survey or asking you to participate in a focus group or interview.
We will regularly produce summary reports for all our partners and funders who we are working with and we may share some of these on our website, but this data will be anonymised, meaning we won't include your name or anything that could identify you as an individual.  Sometimes we may use a quote, taken from any written feedback you provide in surveys etc., but we will not include your name and will remove any details that may identify you.
Will OBU transfer my data outside of the UK?
No
What rights do I have regarding my personal data that OBU holds?
You have the right to be informed
You have the right of access to your data
You have the right to correct data if it is wrong
You have the right to ask for your data to be deleted
You have the right to restrict use of the data we hold
You have the right to data portability
You have the right to object to OBU using your data
You have rights in relation to using your data automated decision making and profiling
Are there any consequences of not providing the requested data?
No.  There are no consequences to you not providing data or with asking for your data to be deleted or changed in the future.
Will there be any automated decision making using my data?
No.
How long will OBU keep your data?
Uni Connect and the Study Higher programme are anticipated to finish in July 2021.
Study Higher is using the Higher Education Access Tracker (HEAT) to help us link to large administrative datasets, and our partner universities also use this system (Oxford Brookes University, University of Oxford, Buckinghamshire New University, and University of Reading).  Once the Study Higher programme is complete each of our partner universities will retain a copy of your data in HEAT so they can continue to follow your progress when the project ends. For more information about HEAT and how it uses your data please go to: www.heat.ac.uk
Any other data that has been supplied to Study Higher will be securely deleted/destroyed at the end of the programme.
Who can I contact if I have concerns?
You can contact the Information Management team.
Postal Address: GDPR Queries, Information Management Team, IT Services, Room 2.12, Gibbs Building, Headington Campus, Gipsy Lane, Oxford, OX3 0BP
Email:  info.sec@brookes.ac.uk
Tel: 01865 485420