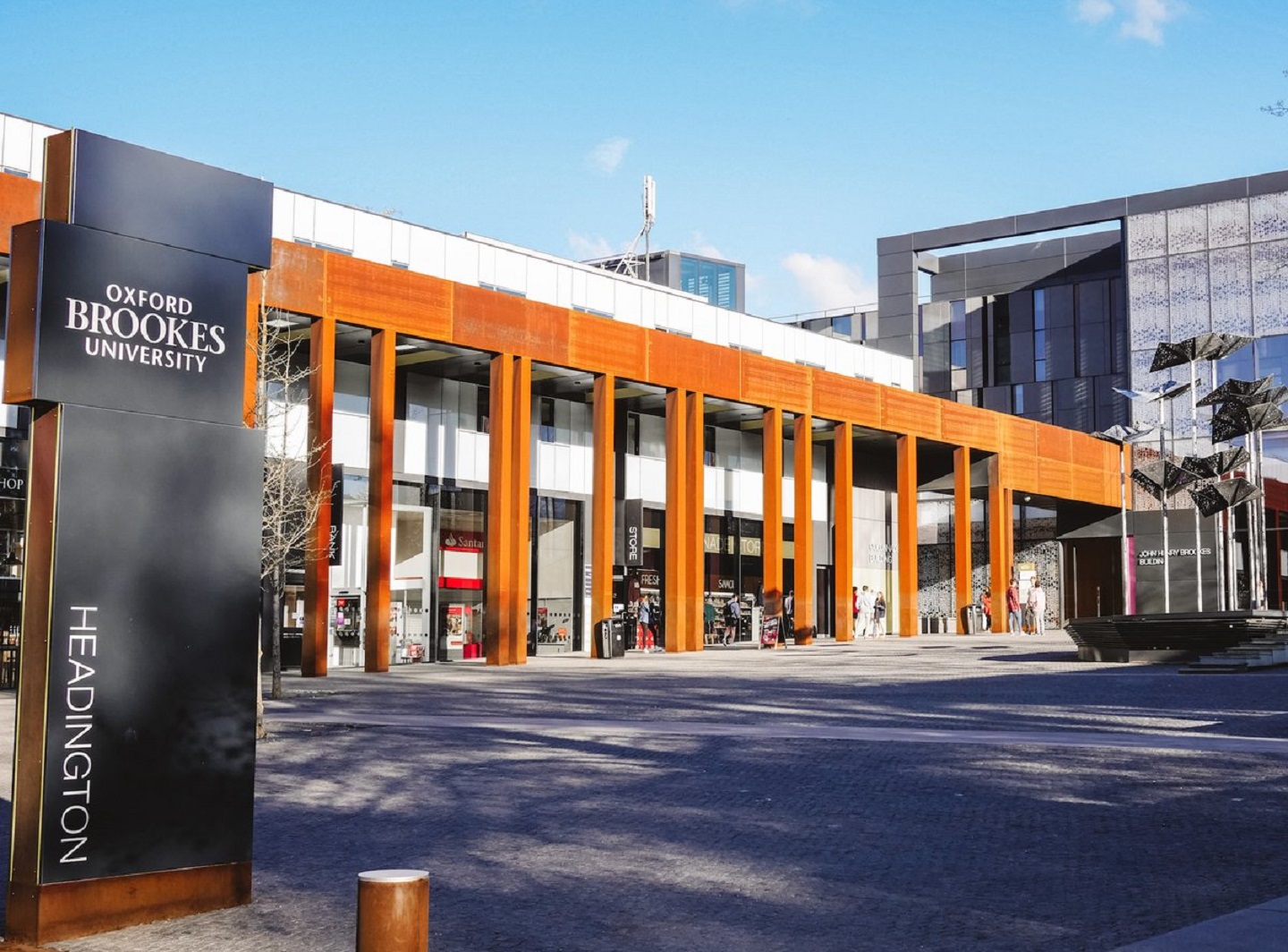 Passport day and 'Bitesize' passport day
Oxford Brookes University's Passport Day is available as a traditional on campus tour or as a covid friendly 'Bitesize' option for delivery in your school.
What is 'Passport day' and the virtual 'Bitesize' option?
Activity type: On-campus event* OR a set of virtual workshops
Aim: The day and workshops aim to realise students' aspirations and increase their awareness of the options available to them in their future, with a particular focus on higher education.
Year groups: year 10
Gatsby Benchmarks: 2 and 7
On-campus: Passport Day runs from 9.30am – 2.30pm at Oxford Brookes University, Oxford. The sessions can accommodate up to 40 students, giving them the opportunity to tour the university and take part in activities which explore various aspects of higher education.
The activities are run with the help of current students, who are available all day to answer any questions/concerns that your year 10s may have about higher education.
Oxford Brookes provides lunch for the students and accompanying teachers, and can contribute towards coach costs, subject to payment terms.
*unfortunately we are only able to offer the on-campus workshops to our target schools which are the schools on this list.
'Bitesize': Each workshop will include an email introducing the topic, a short video from one of our student ambassadors and a digital worksheet for students to complete. Each workshop should take about 30 minutes to complete.
Students who complete a quiz at the end of the six workshops will be entered into a prize draw to win a £10 Amazon voucher and a Study Higher goody bag!
For both on campus and 'bitesize' the sessions are as follows:
Workshop 1: Comfort zones – discover why stepping out of your comfort zone is beneficial. See below for a content preview.
Workshop 2: Benefits of going to university & choosing a course – learn more about how going to university can benefit you and how to navigate choosing a course.
Workshop 3: Routes into higher education – discover the different pathways you can take to higher education.
Workshop 4: On campus or a virtual campus tour & student finance – explore different university campuses virtually and get an understanding about how to finance university.
Workshop 5: Societies – learn about the different societies and clubs on offer at university and have a go at creating your own society.
Workshop 6: Student ambassador Q&A – current students answer any questions you might have about university and their personal experience.
Students who have benefited the most from the day in the past have been those from underrepresented groups (i.e., BAME students, students from low socio-economic areas, students with a disability, students with no family history of HE, young carers or students who live in care/edge of care). We can offer anonymous profiling of your pupils' postcodes to flag individuals from underrepresented areas.
N.B. You can choose when you want to run the workshops for the 'Bitesize' delivery so they can be spread over a number of sessions.
How to book for either version of our Passport day:
Please get in touch with us to register your interest by emailing us at: passportday@studyhigher.ac.uk
We will confirm your booking and send you all the materials you need via email for you to send to your students, as well as a step by step guide for you.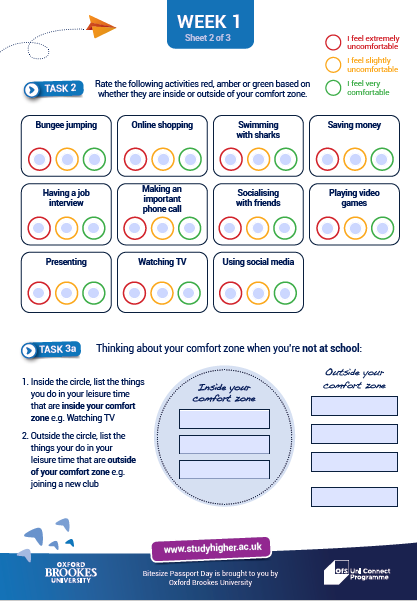 'Bitesize' week 1-preview
Take a look at the week 1 content (Comfort zones) via the link below.  Students can work through the activities on this worksheet to explore how they can strive to step outside of their comfort zone and prepare for their GCSE's.
Please click the button below for the teacher pack!
Our Study Higher Programmes:
Termly Newsletter Sign Up