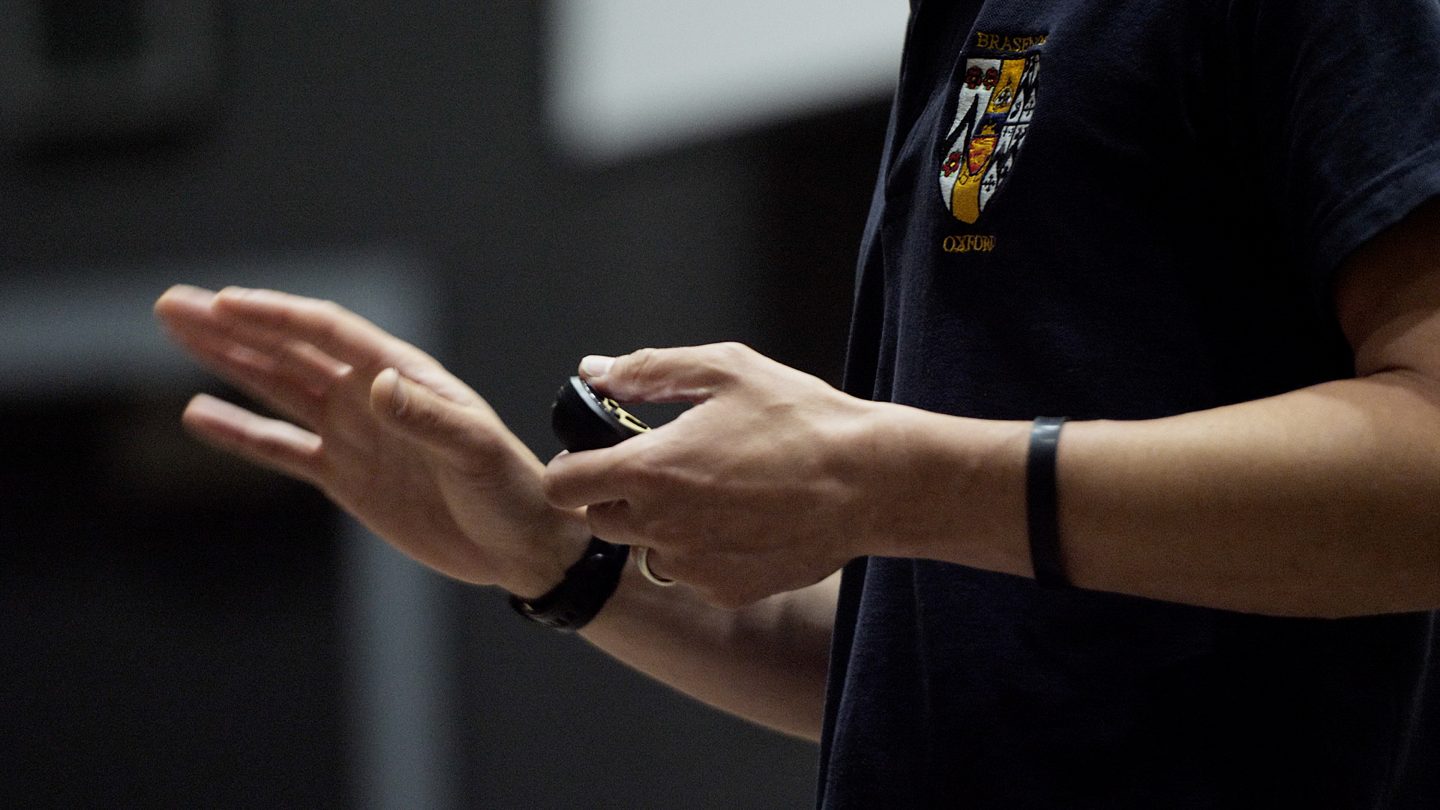 Big Questions Little Questions
Critical thinking skills for sixth form and equivalent learners, from the University of Oxford

Big Questions Little Questions was a programme developed and delivered by the University of Oxford for Study Higher. Please check back later to find out about future iterations of this or similar projects.
Activity type: Workshop in-school; student conference at the University of Oxford
Year group: Year 12 / Level 3 year 1
Gatsby Benchmarks: 7
Aim
To increase students' confidence in their capacity to progress to higher education by developing and enhancing academic skills in critical thinking.
Objectives
The programme's objectives (NERUPI P3-4, B4) are:
To introduce terminology and concepts of critical thinking
To develop confidence and skills for transition to university
To expose young learners to university research.
Learning Outcomes
Through this programme, learners will:
Develop their understanding of questioning approaches.
Feel more confident in creating their own research questions.
Develop their understanding of how to engage critically with sources of information.
Find out about the sorts of questions university researchers and students ask at university.
Better understand how university and school learning styles relate and/or differ.
Be better able to demonstrate critical engagement in assessment.
Summary
BQLQ is a programme of activities delivered by the University of Oxford for Study Higher to develop academic capacity in sixth form students, improving their confidence and resilience for transition to university.
It includes:
developing an independent research question, from ideation to refinement
developing critical thinking skills for academic and everyday use
demonstrating critical engagement in assessed work
These are essential skills not only for everyday life but also for academic progression. Many young learners are demoralised when the study and assessment techniques that they learned and used effectively for level 3 study do not translate well to university-level. This is often because of a lack of understanding of what critical thinking is, how to develop it, and how to show it. This programme helps young learners grasp these skills for use at A level and beyond.
Workshops
We have two workshops available:
Think Critically encourages learners to adopt a university mindset to asking and answering questions;
Develop Your Research Question supports the creation of good independent study topics, ideal for learners taking EPQs.
We can accomodate requests related to these themes, especially for EPQ support.
Workshops are usually one hour, and intended for classroom and small group delivery.
These workshops are ordinarily aimed at year 12 students or equivalent, but we can work with year 13s or equivalent when appropriate especailly if they are currently working on EPQ projects. Where possible this programme includes undergraduate and/or postgraduate student ambassadors to facilitate live encounters with higher education.
Student conference
At the University of Oxford

Our student conference offers students a taste of the wide variety of research that undergraduates, postgraduates, and academics undertake, as well as providing study skills training to help them better demonstrate their critical engagement with subjects in assessment. Students can explore sessions on academic and critical thinking skills.
Help your students prepare for their academic present and future as they:
develop academic skills
view student poster displays
engage with university researchers
encounter university settings.
Further conference details
Attendees
Up to 30 attendees per school, who should comprise of eligible Office for Students Uni Connect outreach students. Your Higher Education Liaison Officer (HELO) can advise you further on identifying appropriate attendees.
Cost
All of our Study Higher events are free to attendent for eligible learners. Unfortunately we cannot provide lunch at this event. Attendees should bring their own packed lunch.

Coach booking instructions
Support for travel costs is available on a reimbursement basis, dependent on successfull attendance with eligible students. Schools should book coach travel themselves and let their Higher Education Liaison Officer know how much the coach will be.
On successful attendance at the event, the school should send the HELO a copy of the coach invoice, who will raise a Purchase Order for reimbursement.
Who do we work with
We work with 21 schools and colleges across Oxfordshire, Berkshire, Buckinghamshire, and Swindon. We target our work based on a locality-based measure for participation in higher education called POLAR. This means that we target our work at young learners from postcodes in areas where rates of going to university or higher education is lower than expected.
Our Study Higher programmes
Termly Newsletter Sign Up